Why Is the Internet in the Philippines So Damn Slow?
When I was in Singapore, I was online everywhere I went. I was online in the depths of Bras Basah or the heights of the Marina Bay Sands. My mobile was always connected on the internet. I played Zenonia and checked gothere.sg for directions when I got lost. Everywhere I went, there were offers of free wifi from restaurants, pubs, and any public place imaginable. The wifi was fast. However, Singapore is a speck at the very end of Malaysia – a prosperous red dot. It should be easy to maintain connectivity at such a small scale, right?
Now let's look at South Korea. As I ventured from the convention centres towards museums, malls, and other public establishments there, I didn't find it hard to gain a stable wifi connection. Of course, South Korea tops the global ranking of the fastest internet connection. My hotel room at the edge of the city had adequate connection, albeit fluctuating. I could easily check the exchange rates and upload photos on social media simultaneously. The wifi was fast.
Then I come back to the Philippines. I get greeted by a newly-improved wifi connection inside NAIA. All seems well, but from the moment that I step out of the airport, my LTE connection fails me. The wifi is slow. It saddens me. I make do with the resources I have. However, this is nothing compared to my internet connection at home. My laptop barely manages to open a web browser during the monsoon season, and there are times when my connection is just dead AF. The struggle is real. Why is the internet in the Philippines so damn slow?
A few months ago, I've decided to avail a new prepaid pocket wifi LTE for the times when I go around the metro. I asked around the major telco providers in the country. I have gotten multiple promises of high-speed surfing and offered a multitude of plans that can "make my life better." Most of my businesses are online. I cannot afford to miss a customer email or a transaction verification. I watch TV series online, and I constantly consult the net for news, technical, medical, and self-improvement information. I need fast and steadfast internet. Sadly, it's just not happening.
A few months ago, Telstra made a splash on the news of its eventual infiltration of the Philippine market, promising faster, cheaper, and a more reliable internet connection for all. Then months later, Andre Penn, CEO of Telstra, releases a statement in conjunction with talks with San Miguel that said, "Despite an enormous amount of effort and goodwill on all sides, we were simply unable to come to commercial arrangements that would have enabled us all to proceed." What commercial arrangements were you unable to come to terms with? We were promised fast internet! DAFUQ.
"Frankly, let's face it. Go to the Philippines, experience for yourself the sort of lousy service you get from the incumbent operators, and you will see that the opportunity there for a new operator to provide a much better quality service over an LTE network, over a better spectrum," Penn added. With President Duterte hinting that he will open the Philippines for more players, this is just what we need.
Amongst its Asian neighbours, the Philippines has an abysmal record of internet service. Quite simply, I can go to almost any country around the Philippines and experience a refreshingly faster internet connection. I mean if I download a 300MB+ file via torrents here in the PH, it takes hours – even days to complete. Whereas if I download the same file in Singapore, it will take me less than 20 to 30 minutes, depending on how many YouTube videos I'm watching at the moment.
How much was the prepaid LTE I was able to avail? The Huawei LTE mobile wifi unit was priced at 2000 PHP, and the prepaid load of 1 month internet with 800MB daily allowance was another 1000 PHP. Should I decide to maintain it, I need to pay 33.33 PHP per day for 800 MB of data usage which can be depleted in the first 2 hours of usage. If I want to upgrade that for 1GB worth of data for 3 days, I have to pay a lot more. WATDAFUQ.
According to the Summit Express, "The threat of having a third player in the telecommunications industry backed by a foreign telecom giant made the duopoly of Philippine Long Distance Telephone Company (PLDT) and Globe Telecom Incorporated to allegedly implement all the necessary measures to block any possible attempts for SMC to bring the services of Telstra with it."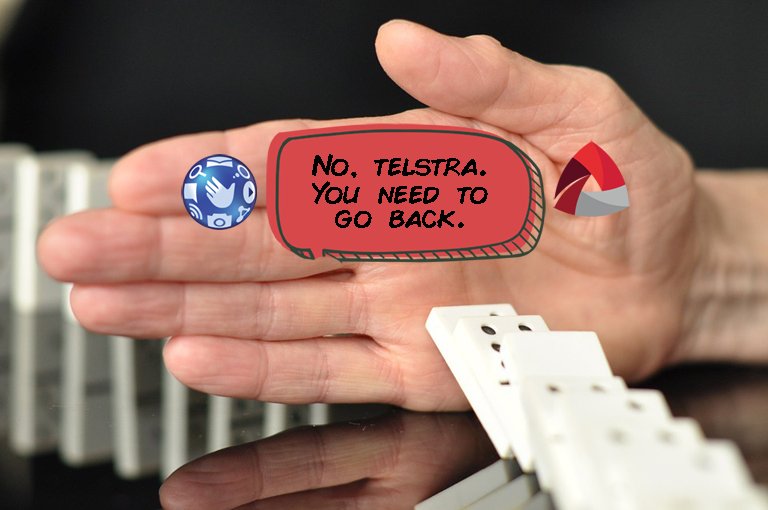 It is a very plausible statement, and it may be the main reason many are suffering poor internet service up to now. Perhaps giant companies are deliberately numbing the masses to develop an addiction which can only be pacified with product subscription for an exceedingly limited service. Only time will tell if the internet situation in the Philippines will improve. Naively, I just hope that business won't impede technological transcendence just so a few can live better lives by promising us they will make ours the very same.
Sources:
http://www.revu.com.ph/2016/07/philippine-internet-speed-ranking-q1-2016/
http://www.thesummitexpress.com/2016/03/goodbye-telstra-san-miguel-to-launch-belltel-this-2016.html