Mystical Jeju Island (Part 1 – The Rainy Arrival)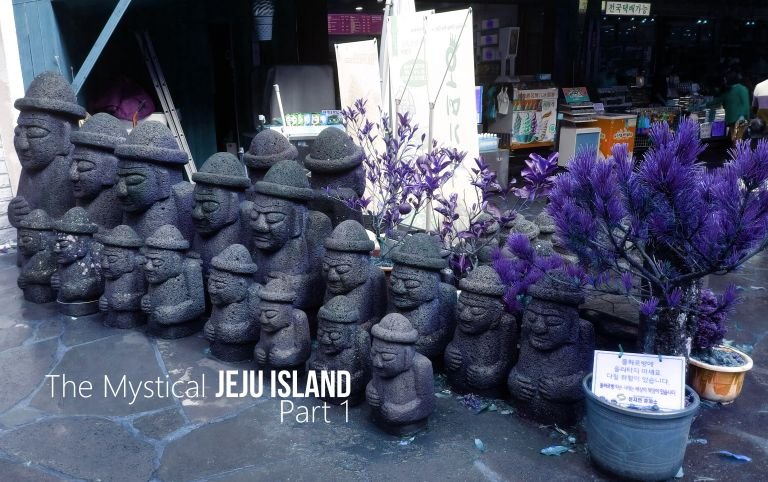 I've always been curious about Korea. I used to work for a Korean company, proofreading their English, and I learnt a thing or two about this strange peninsula. For one, I've learnt that most Koreans dream of going to Jeju Island. I mean, it's a part of their country; can't they travel locally and visit it? However, since Korea is a developing economy (one of the strongest economies, in fact), people have developed a culture of business – and I mean busy-ness. Jeju Island is considered a luxury even for Koreans, and now I know why.
I arrived at Jeju-do in the middle of an erratic rain. Why is the Hawaii of Korea so sodding rainy? Did we arrive during the monsoon season? I thought that was in June. I was starting to think that this island paradise wasn't such a paradise after all.
However, this beautiful piece of volcanic land has proven that first impressions aren't always correct. I wasn't going to let a little rain hinder my quest to discover this gem of a destination. And before I knew it, I was like, "Dang it, I like it here!" The first feel of that cold autumn air was enough to convert me that it wasn't going to be as unsatisfactory as I was assuming it would be. For one, the rain dispersed quite rapidly, and by the time I was on the bus towards my first stop, the island revealed a misty pine-filled Eden of a scenery.
But wait, let's go back to the airport…
Why was this effin airport deserted? And more importantly, why was the money changer closed? How could I buy anything without any Korean won with me? ****! (A few minutes later, I was informed that the forex opens at 9AM. I was there around 6:30AM.)
I came to Korea when hype of 'Train to Busan' was on an all-time high, and man, was I paranoid. Yea, I know it's fictitious, but I couldn't help imagining scenarios of my bus hitting a deer, and the deer spring back to its zombie life. Here's a trailer:
Being the writer that I am, I was apprehensive, especially after seeing the quarantine booths before the immigration panels. Add the huge deserted spaces of the airport where I could only see five people upon exiting to the arrival hall, and it was a complete recipe for a zombie apocalypse.
However, after that brief paranoia, I boarded the bus to Jeju-si (Jeju City), and I was ready to hunt for some grub. It was raining moderately, but that didn't stop me from admiring the clean streets and the fields of pine trees and tangerines, all depicting a sense of overgrowth.
***
Let's get one thing straight – travelling around Jeju Island is not a piece of cake. Renting a car can easily deplete 100,000 to 150,000 KRW per day, and that's just getting a vehicle.  Getting around is another story. Most of the attractions can be an hour away from each other as I went back in forth the two cities: Jeju-si and Seogwipo-si. Buses are available, and there are pre-recorded announcements of bus stops in Korean, English, Mandarin, and Japanese. However, it's still easy to miss your stop if you're not paying attention.
There's also this language barrier factor, and I'm not talking about just Korean. Jeju people speak an older version of Korean – quite different from the one in Seoul. I could see a couple of other Koreans deciphering conversations from the natives there – albeit, with more ease. When dining, most restaurants only have Korean menus, so be prepared to screencap Korean characters of the food you want to eat and do a lot of pointing. I'm glad to say that by the time my trip was over, I was able to order the basics like rice, "Bap chuseyo…" and water, "Mul chuseyo, kamsahamnida!"
***
Upon arriving to the middle of the city, I joined a group tour which had pre-arranged destinations for the day. Hence, I got to eat this lovely plate for breakfast:
I had always wanted to eat kimchi in Korea, and it was the first authentic kimchi I had had if the one in Kaya didn't counted. I had no idea I would be eating kimchi on all the meals for the rest of my trip. After the meal, I was ready for the day.
Read the next part of my Jeju Island trip by clicking here.