Phuket to Bangkok by Train – the Best View of Thailand's Countryside
Let me start by saying there are no trains from Phuket to Bangkok. You need to take the bus to Surat Thani first before taking the train to Bangkok. The journey backways (Bangkok to Phuket) is very similar. It's an extremely interesting path to take, and as the title suggests, it is by far the best way to view Thailand's countryside, so I'll try to create a good rundown of it.
There are four main ways to travel from Phuket to Bangkok:
By plane: relatively cheap at 2,000+ THB depending on the airline company, 1 hour flight, somewhat safe
By bus only: cheapest mode around 900+ THB all in, 16-hour journey, can be dangerous if not booked at the bus station – lost luggage incidents, overnight accidents, etc.
By tuktuk: dangerous, most expensive as the price depends upon your negotiating skills, 1000 THB from Phuket to Surat Thani alone, so just imagine how much it would cost from Phuket to Bangkok – a lot. 🙂
And by bus/train: read below
Phuket to Surat Thani
The bus from Phuket to Surat Thani leaves at Bus Terminal 2 which is a couple miles north of Phuket Town. Hence, it would take a considerable amount of time if you're coming from Kata or Patong. Getting a bus to Phuket Town should cost at least 30 THB. From there, the bus to Surat Thani costs considerably cheaper at 180 THB for a 4-5 hours journey. If you leave Phuket in the afternoon, you'll arrive at the station around dinner time which is just enough time before boarding the night train to Bangkok. Of course, the day train will provide more stunning views of the countryside, but the sleep you'll get in the sleeper train is an experience I would always recommend to everyone. Saving hotel bills whilst travelling has a nice charm to it.
Surat Thani to Bangkok
Upon arriving to Surat Thani province, the station is located in Phunphin, a few miles before the city proper. Hence, you have to ask the bus driver to drop you off nearest to the station, and you can take a tuktuk or a taxi to get there. Upon arriving at the train station, there are several train classes you can avail:
1st class sleepers (which we took because no 2nd class sleepers were available)
2nd class sleepers (air-conditioned)
2nd class sleepers (non-air-con)
2nd class seats
3rd class seats
Most of these classes don't include meals, so make sure to purchase meals before boarding the train. The best way to enjoy a morning in a train ride is the breakfast in it. The first class sleeper costs 1,300 THB. The journey is approximately 9 hours. In my case, I bought frozen meals from 7-eleven, preheated one and ate it on the station. Then I saved the other one to be eaten as it is for breakfast. There are TVs and a fair amount of people at the station, so the chance of getting bored there is slightly slim.
The Train Situation
Once you board the 1st class train, the train staff will convert the seats to sleepers first before you can enjoy the bed. You'll be given a fresh blanket, and you won't be bothered until 30 minutes before arriving to Bangkok (if you don't count the trolleys). The room has 2 berths and is designed for 2 people to share. There is a sink, an outlet, a small table, and a pair of glasses and soap bars. There are handles, railings, and nets for your belongings. There is also an electrical outlet on the upper side of the room. The toilet is near the entrance at the front end of the compartment.  The air-conditioning paired with the gentle bumps every now and then is guaranteed to give you a nice sleep, especially if you sleep on the upper berth. The 1st class offers the safest service and great privacy.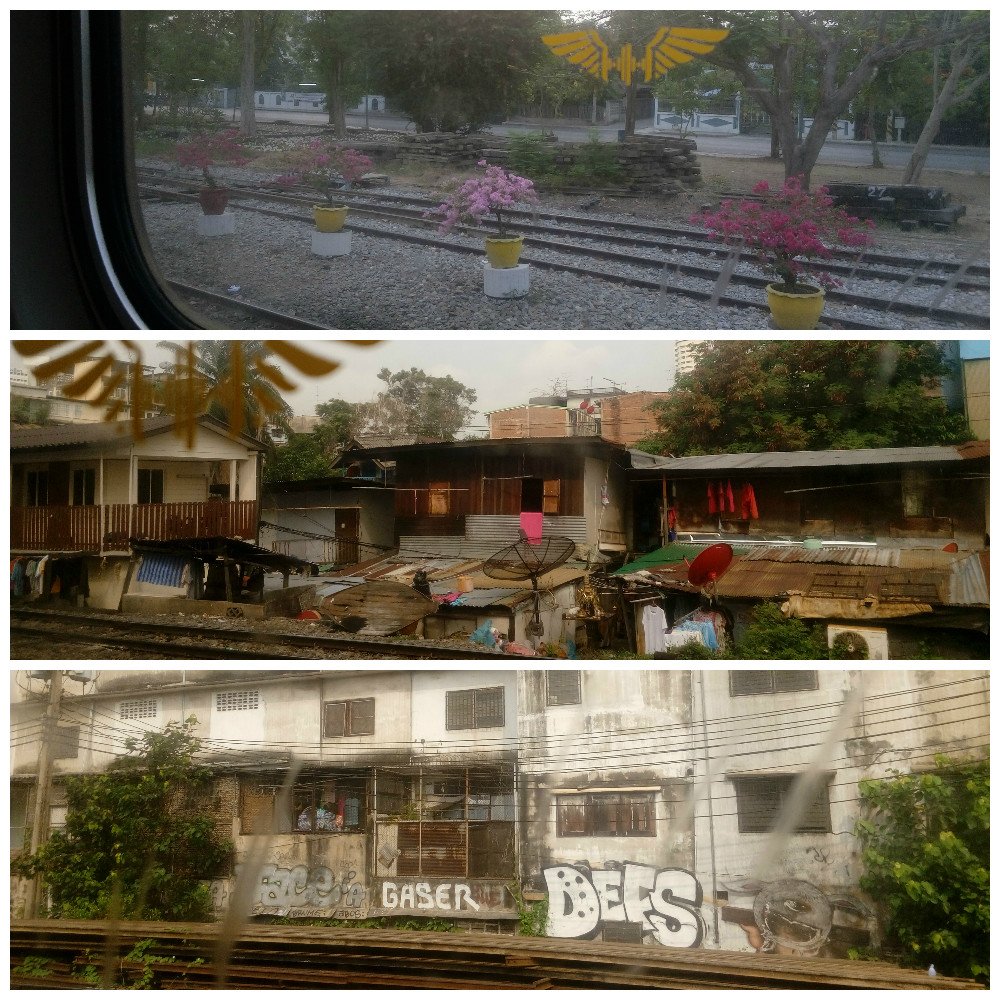 Arriving at Bangkok
In the morning, the sights of the countryside are to behold. Albeit, we could hear the music coming from the compartment in front of us. We've enjoyed the views for a good 2 hours before arriving at Bangkok. Our beds were converted back to seats 30 minutes before arrival even if we're still enjoying them. Despite this, the train ride is still my favourite part of our Thailand trip. We arrived at Hualampong Station which is in the middle of Bangkok, so everything was accessible after the trip. I would've liked the ride to be longer, but I guess there are plenty of other road trips for me to do, and some might be as pleasantly surprising as this one.