Mystical Jeju Island (Part 4 – Korean Food, Finally!)
If you've missed the first part/s of this series, I highly recommend reading them from the start by clicking here. If you have been following this series religiously, good for you! Thank you very much, and I appreciate all the support!
So apart from the very first part of this series, I haven't showed much of the food I have eaten in Jeju because there's a lot – like a shitload of food. Plus, I don't know how to condense them all in one post, but I reckon I need to. Hence, prepare your tummy! Mind you, most of my photos aren't really very Instagram worthy, but I'll do my best in the future. (Perhaps, I'll start uploading videos as well; who knows?)
Koreans tend to over cater when it comes to food. They always want to make a big impression. Believe me that everywhere I went in Jeju, the food was always overflowing. I could order second and even third helpings of everything, and I was always full. I only stopped eating when my tummy hurt. Then I shoved tasty Korean food again. It was f&cking paradise.
Let's look at some of the food shall we. 🙂
Buffets are popular in Korea. Sometimes it's cheaper to go to a buffet than order a pricey meal at an exclusive restaurant. Buffets can start at 10,000 KRW (USD), and they are very popular with students and workers alike. At the International Convention Centre (ICC), there was the Delìzìa restaurant which was a buffet that offered a blend of Western and Korean food. This was one of the best and satisfying stops I had. I just stuffed myself senseless whilst admiring the cool view of the coastline from afar. It was very pleasant if I may say so.
Our guide made sure that we get to taste Korean seafood – a pride of Jeju as it's an island. We were taken to a local Korean restaurant with long wooden tables and a surprisingly hot atmosphere. All the food was served already on all the tables, but if I wasn't sure all of them were going to be packed with people. It didn't matter. Since I watched some videos on North Korea, the serving style of this restaurant was very reminiscent to those of old Korea, particularly the North. Perhaps, I was just used to modern Korea, I wasn't sure they had these still.
When I settled on the table, my eyes darted from one dish to another. There was a ton of side dishes, each compliments the one beside it. There was cabbage kimchi (which I liked), raddish kimchi (which I didn't like), juicy pieces of pork (probably steamed, meant for spring rolls), miso soup with seaweed (Oh, yiiis!), tofu or egg squares (I wasn't sure, but definitely made of egg), steamed cabbages, water spinach kimchi (like), bowls and bowls of samjjang sauce, and a shitload of fresh lettuce to assemble your spring roll.
Finally, at the center of the table lay the mackerel which was the star of the show. Juicy, tasty, savory, and quite refreshing, the mackerel was definitely what you would want to have seconds of. There was another tasty fish, but I kind of neglected it because I was far too busy assembling spring roll after spring roll and shoving mouthfuls of mackerel in. The place seemed like old Korea, and I was glad to eat there, even if it was just once.
My 4-star hotel had an in-house restaurant called the Lorient, and I had two buffet passes when I checked in. My hotel was quite expensive, but I was happy to splurge a bit just the same.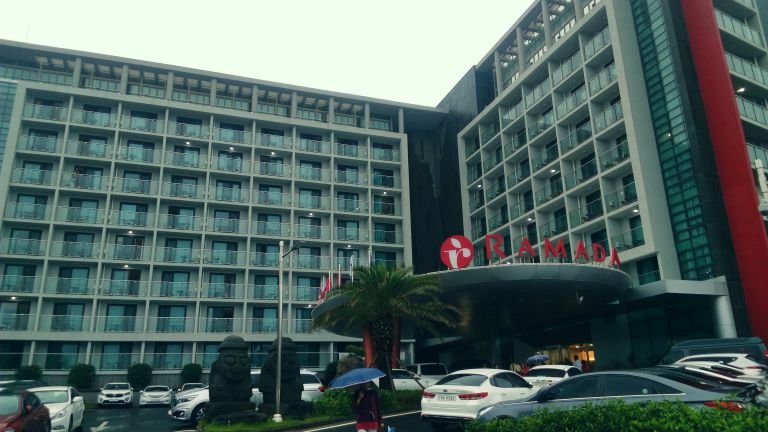 As per uje, the restaurant offered a mix of Korean and Western cuisine. I started to think that most high-end buffets in Korea followed the suit. Here's a common set.
There's pan with raisin (meh), scrambled eggs, white longganisa (not as savory as I thought it would be; what is that anyway?), fried potatoes (as Western as they could make them), bits of bulgogi (Oh, yiiis!), and steamed dumplings (Oh, yiiis!). They have their own version of Yakult (yogurt) which I helped myself, of course. The buffet offered Jeju's mushroom porridge which everyone had to try at least once, and there was a ton of fresh foods bound to keep you healthy and slim.
A typical meal I would have in the Lorient would look something like this:
There's the customary pack of seaweed. (Seaweed is a number one export of Jeju. I'll talk more about it in the future posts.) There was squash en croute, different sorts of kimchi (a whole section of the restaurant devoted solely to kimchi), fresh greens, berries, and smoked salmon. Add some yogurt, and I was ready to seize the f&cking day.
I also had the chance to visit a hybrid Korean restaurant that had these smoke vents in the middle of the table, and I had the chance to grill my food.
However, there was a part of my trip when I just wanted to try authentic bibimbap which looked like this:
It didn't look so appetizing, but trust me when I say that it tasted awesome. It wasn't as spicy as I was expecting it to be. Come to think of it, most of the Korean food which I expected were spicy AF weren't. I was a bit disappointed that the bibimbap wasn't served in a stone bowl, but no matter, I was just glad just the same. Bibimbap is the national dish of Korea, and there's a reason for it – it's fast, tasty, and just a delight to have anytime of the day.
Essentially all the ingredients were already assembled in a bowl – cucumber, carrots, lettuce, bean sprouts, beef or pork pieces, a whole fried egg, mushrooms, and a plethora of other possible ingredients comprise this rice dish. The rice was separated in a covered metallic bowl and had to be added to the mix along with some samjjang sauce. It is of the utmost importance that the bibimbap is mixed rigorously before eating to get the best possible flavour.
During one of my bus trips, our guide gave me this curious little snack or dessert.
It tasted so f&cking good that I was looking for it in every convenience store I came across. However, I didn't find it anywhere – not in 7-Eleven, not in stalls, not everywhere. L We shall meet again, Samjin Choco and Peanut Pie; mark my words. I shall eat you again, you elusive piece of sweetness.
I also observed some of the noodle prices here, and of course, their local noodles are a couple of bucks cheaper. However, based on Philippine standards, most of the food (and everything else) in Korea is expensive.
One night, I decided to pacify the carnivore within me and went to an all-meat buffet restaurant. The Chak Han Pig Self Café logo was enough to signal me that it was going to be a f&cking feast.
And it was. I took just a couple of kimchi and filled my plate with all kinds of meat from pork (different cuts), beef, duck, chicken, and even little octopuses. Then I proceeded to grillin'. Needless to say, that became my favourite dining place in Jeju.
A few days later, the fog enveloped the streets. It was surreal. However, despite the limited visibility, I surmised it was the perfect day for something new.
Grilled spiced pork perhaps?
Of course, this restaurant served its own array of terrific side dishes like pickled radish, steamed and dried seaweed, various kimchi, and macaroni? The macaroni tasted awful, but I didn't go to Korea to eat pasta. The rest of the food however was phenomenal. I couldn't stop eating the spiced pork. I even lost count on how many helpings of it I had.
Jeju Island seemed like a nice place for foodies, especially for those who have an affinity for seafood. Everything that came out of the sea which they served was superb. The juxtaposition of foods from my homeland and theirs were great. However, I did manage to find dried Cebu Mangoes being sold in the local convenience store. Apparently, mangoes are a rare staple for Koreans, and they pay a high price for them.
My last mean during my trip was on the same restaurant that served the bibimbap. This time, I enjoyed Korean barbeque and finally got to use the smoking pipe vents. It was uncomfortable sitting on the floor, however, but I reckon it just takes practice. I will miss their pork, sticky rice, strangely tasty kimchi, and samjjang sauce. Perhaps I won't miss them too soon. 🙂
Thank you very much for reading! More Jeju Island coming soon.